Introduction
Welcome to the bustling metropolis of Bangkok, Thailand! This vibrant city often referred to as the "Land of Smiles" is a fusion of rich cultural heritage, stunning landscapes, mouthwatering cuisine, and warm hospitality. We will take you on a journey to explore the ins and outs of traveling to Bangkok here. Whether you're a first-time traveler or a seasoned explorer, this article will provide you with valuable insights and tips for an unforgettable adventure.
Table of Contents
1. Planning Your Trip
Choosing the Right Time to Visit
Bangkok experiences different seasons, so it's essential to plan your visit wisely. Discover the best times to explore this city's beauty, avoiding extreme weather conditions like heatwave, rain or flood.
Setting a Budget
Budgeting is key to a successful trip. Learn how to manage your finances efficiently and make the most of your Bangkok experience without breaking the bank. Cards are mostly accepted at airports, shopping malls and supermarkets, but it's still handy to carry some cash. You can locate moneychangers such as Superrich Thailand at centralWorld, MBK, Platinum Mall and many more locations. Remember to bring your physical passport as this is one of the requirements when exchanging currencies over the counter.
2. Getting There
Booking Flights
Use popular flight search engines like Google Flights, Skyscanner, Kayak, or Expedia to compare prices and find affordable flights to Bangkok. Don't forget to consider purchasing travel insurance, which can protect you from unexpected cancellations or emergencies during your trip.
Visa Requirements
Make sure you have all the necessary travel documents. Understand Thailand's visa requirements and how to obtain one for your trip.
3. Accommodation
Choosing the Right Accommodation
Discover the diverse range of lodging options in Bangkok, from luxurious hotels to budget-friendly hostels and find the perfect place to stay that suits your preferences and budget.
Top Accommodation Areas
Explore different neighborhoods in Bangkok and find out which one suits your travel style and interests. Most hotels are within the city centre, one particular to mention is Holiday Inn Express Bangkok Siam, which sits in the centre of Bangkok's famous shopping district with impressive view of the National Stadium and Bangkok city. Bonus point for McDonalds fans! It is just right beside the hotel.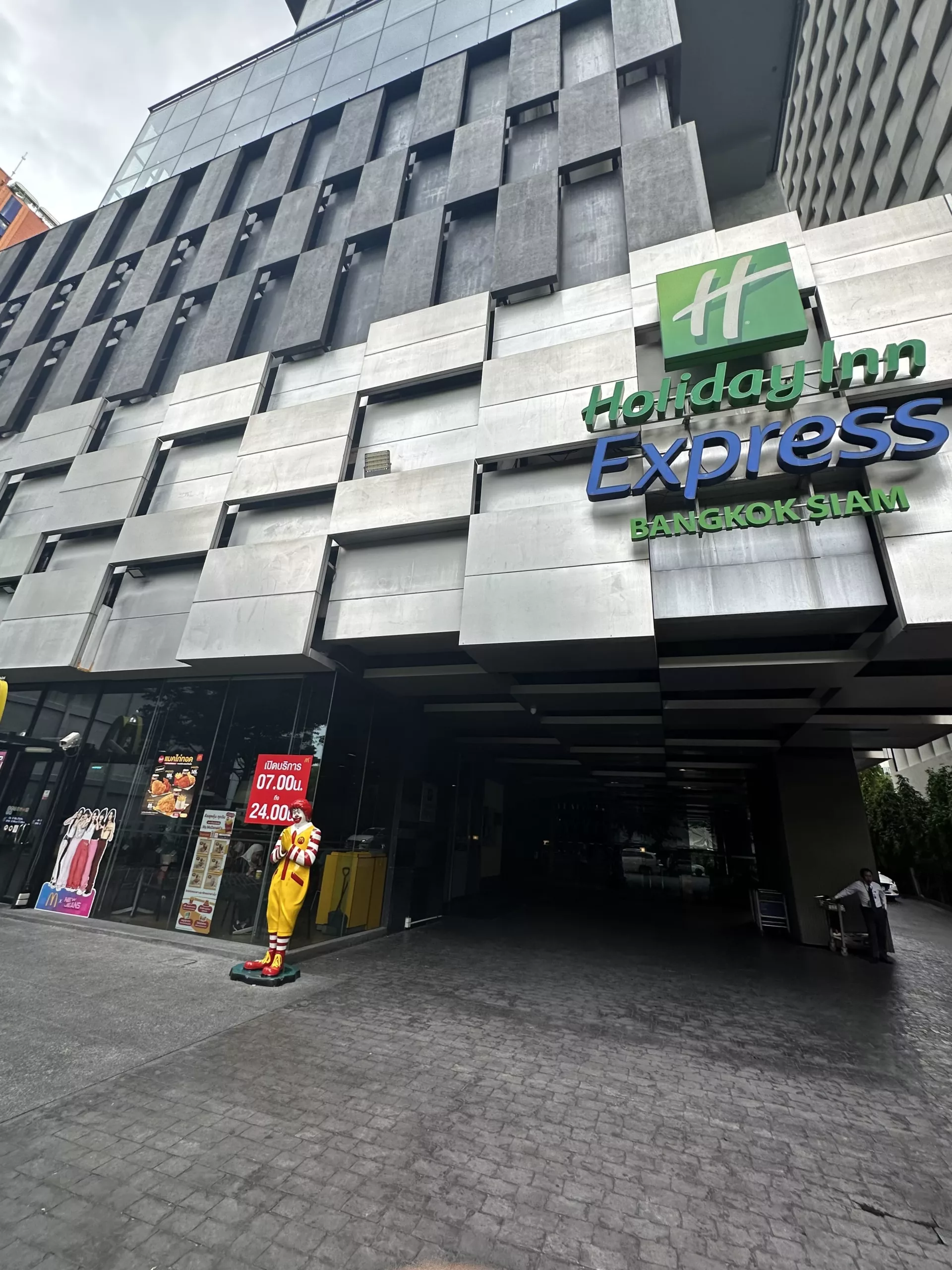 4. Getting Around Bangkok
Public Transportation
Learn about the convenient and affordable public transportation options in Bangkok, including the BTS Skytrain and MRT Subway. To get to the city from Suvarnabhumi Airport, you can purchase a token ticket for Suvarnabhumi Airport Rail Link (ARL) train which connects to BTS train at Phaya Thai Station. If you own a Rabbit Card which is a stored-value-card for public transports, you can easily tap to enter and exit a BTS station.
Tuk-Tuks and Taxis
Discover the iconic tuk-tuks and taxis that offer a unique way to explore the city. Get tips on how to negotiate fares like a local. Commuting using the Grab app is super easy and as #Tip so to ensure that your driver knows your location, use the Translate app and send a message prior, as not all drivers speak English.
5. Exploring the Culture
Visiting Temples
Bangkok is famous for its stunning temples. The must-visit ones, includes Wat Pho, the temple of the massive Reclining Buddha; a golden statue that spans 46 meters in length and Wat Arun also known as Temple of Dawn which features a panoramic scenic view of the Chao Phraya River and Bangkok city.
Experiencing Thai Cuisine
Indulge in the flavors of Thailand! Savor the best local dishes like Pad Thai, Som Tum and many more.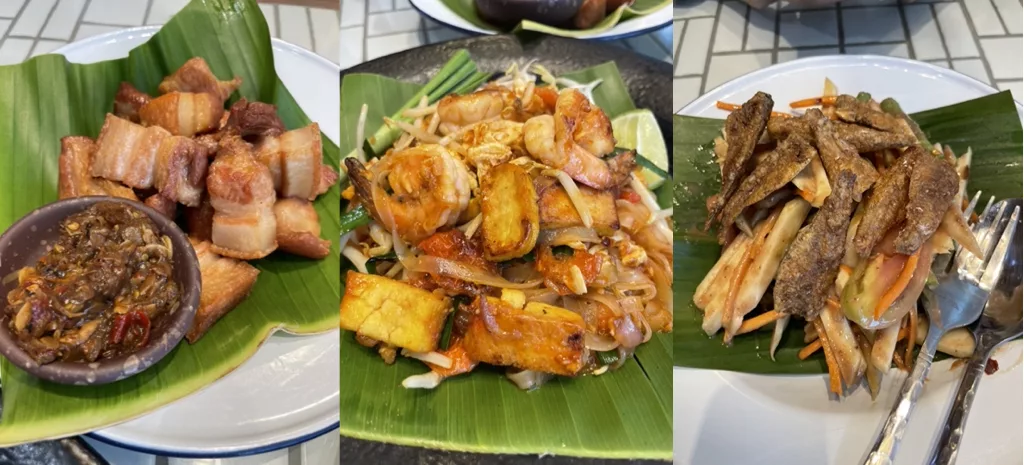 6. Must-See Attractions
The Grand Palace
Explore the opulent Grand Palace, a historical and architectural marvel that's a must-visit in Bangkok.
Chatuchak Weekend Market
Shop for souvenirs, clothing, and more at one of the world's largest markets. Learn the art of bargaining and snag some fantastic deals. #Tip Only bargain the price when you are interested to buy.
Jodd Fairs Night Market
One of the latest and popular night market easily accessible by taking train to Rama 9 Station. If you're a foodie and game to try eating live squid and prawns, this is the place you need to be.
7. Nightlife and Entertainment
Khao San Road
Discover the vibrant nightlife on Khao San Road, where you can dance the night away or enjoy a relaxed evening with fellow travelers.
Traditional Thai Performances
Experience traditional Thai dance and theater performances for a taste of the country's rich culture.
FAQs (Frequently Asked Questions)
Q: What's the best time to visit Bangkok?
A: The ideal time to visit Bangkok is during the cool and dry season, which falls between November and February.
Q: How much money should I budget for a trip to Bangkok?
A: On average, a mid-range traveler can expect to spend around $50 to $100 per day, while budget travelers can get by on $30 to $50 per day.
Q: Do I need a visa to visit Bangkok?
A: It depends on your nationality. Many countries have visa-free entry for short stays, but for longer visits, you may need a tourist visa.
Q: Are tuk-tuks safe to use in Bangkok?
A: Tuk-tuks are generally safe, but always negotiate fares before your ride to avoid misunderstandings.
Q: What are some cultural do's and don'ts in Bangkok?
A: Dress modestly when visiting temples, remove your shoes before entering, and show respect to religious artifacts.
Q: Is street food safe to eat in Bangkok?
A: Street food in Bangkok is delicious and generally safe. Just ensure the vendors maintain hygiene. On the hindsight, remember to bring some emergency medications, just in case you feel unwell.
Q: Where can I buy a prepaid SIM card in Thailand?
A: Generally its available at the airport. These are the 3 most popular brands: dtac, AIS and truemove and you can also buy the e-sim prepaid prior your arrival in Thailand.
Conclusion
Bangkok is a city that never fails to amaze and captivate travelers from around the world. With its rich history, vibrant culture, and a plethora of attractions, it's no wonder it's a top destination. By using this guide, you'll be well-prepared to embark on an incredible journey to Bangkok, Thailand. So pack your bags, book your flight, and get ready for an adventure you'll cherish forever.